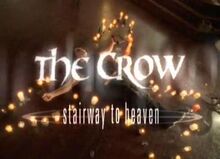 The Crow: Stairway to Heaven is a Canadian supernatural drama television series created by Bryce Zabel. It
originally aired from September 25, 1998 to May 22, 1999, consisting of 22 episodes.
The series was based on the 1994 film The Crow. It starred Mark Dacascos as the protagonist, Eric Draven.
See Also
Edit