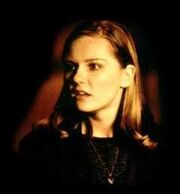 Erin Randall is the younger sister of Lauren who helps Alex with his mission.
Her story
Edit
Alex tells her about their deaths and that it isnt good to die. Erin finds her father dead and she heads to Walsh's place where Alex leaves for a bit and Madden arrives where he kidnaps her and kills Walsh.
She is taken to Madden's place where her mouth is shut. Alex arrives and they kill Madden and his henchmen. Alex goes back to being dead and Erin continues her life.
She is portrayed by Kirsten Dunst